21 October 2012: Voting for the nominees for the 2012 World Mayor Prize is now closed. The City Mayors Foundation will now deliberate the more than 450,000 votes, testimonials and critical comments, which have been cast and sent in.

We would like to thank all those who participated. The winner of this year's Prize and all other results will be announced on 8 January 2013.

You can still voice your opinions by emailing us or by posting comments on Twitter and Facebook.
The 2012 World Mayor shortlist

| | | |
| --- | --- | --- |
| Mayor | City | Country |
| North America | | |
| Régis Labeaume | Québec City | Canada |
| Stephanie Rawlings-Blake | Baltimore | USA |
| John F Cook | El Paso | USA |
| R T Rybak | Minneapolis | USA |
| Cory Booker | Newark | USA |
| Latin America | | |
| Eduardo Paes | Rio de Janeiro | Brazil |
| Rabindranath Quinteros Lara | Puerto Montt | Chile |
| Alfonso Sánchez Garza | Matamoros | Mexico |
| Susana Villarán | Lima | Peru |
| Europe | | |
| Freddy Thielemans | Brussels | Belgium |
| Matteo Renzi | Florence | Italy |
| Ahmed Aboutaleb | Rotterdam | Netherlands |
| Fabian Stang | Oslo | Norway |
| Jacek Majchrowski | Kraków | Poland |
| Zoran Jankovic | Ljubljana | Slovenia |
| Iñaki Azkuna | Bilbao | Spain |
| Asia | | |
| Joko Widodo | Surakarta | Indonesia |
| Ron Huldai | Tel Aviv | Israel |
| Edgardo Pamintuan | Angeles City | Philippines |
| Park Wan-su | Changwon City | South Korea |
| Melih Gökçek | Ankara | Turkey |
| Australasia | | |
| Lisa Scaffidi | Perth | Australia |
| Len Brown | Auckland | New Zealand |
| Africa | | |
| Mouhib Khatir | Zeralda | Algeria |
| Ayodele Adebowale Adewale | Amuwo Odofin LG | Nigeria |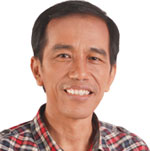 Mayor Joko Widodo, Surakarta, Indonesia
Testimonials for
Joko Widodo
Mayor of
Surakarta
(Indonesia)
The winner and runner-ups of World Mayor 2012 will be chosen based on the number of nominations in relation to the size of their cities and, more importantly, on the
persuasiveness
and conviction of testimonials received during
this year's World Mayor Project. Below we publish a selection of comments received to date
about WM nominee
Joko Widodo, Mayor of Surakarta, Indonesia.
Testimonials
:
Comment: Jokowi is a representation of new generation of Indonesian leader who long to break from the past "sin" of corruption, collusion and nepotism in Indonesia. Through his successful work with and for his people, he is arguably one of the most respected political leader besides Mr Dahlan Iskan, the Indonesia's Minister for State-owned enterprises. His heart is with the marginalized, the lower class of his society, while his policy also highly respected by intellectuals. He made remarkable changes in his city, physically and morally. He was elected as a governor of Jakarta pairing with Ahok, another young leader figure as his vice. Jokowi is an inspiration and hope for Indonesian worldwide. Humble, simple, but also smart, innovative, honest and approachable. He is, hopefully, become the model of changing, and bring more young leaders to spread the good news: New Indonesia. (By Ardi H, Outside Indonesia)
Comment:
He just elected as Governor of Jakarta on September 29th, 2012. The great thing is all the Corrupt Government and Parties are against him, but what the result? He won 54% votes against the incumbent. Because now a days people in Indonesia already smarter, they don't want to follow all the corrupt Government, their heart miss somebody like Mr Jokowi who can be trusted. Year 2014 Indonesia will held Presidential Election, hopefully Mr Jokowi and Mr Dahlan Iskan to be great partner for run for President. Indonesia is a country with almost 250 millions people. We suffered from many problematic issue that only can be handled by such person like Mr Jokowi and Mr Dahland Iskan. Viva Indonesia, we are love and proud of you. Jesus bless you! (By Steven D, Outside Indonesia)
Comment:
Congratulation for being listed at World Mayor 2012 nomination. And another congratulation for being elected as new Jakarta's Governor for 2012-17 period. Wish you all the best. (By Juliana, Indonesia)
Comment:
Mr. Joko Widodo determination of making the Solo city becoming one of the best and most advance city in the country. his thinking and action of clean governance, pro poor people by boosting the quality lives for them has gain supports from all over the country even from Indonesian students and communities outside the country. We are proud and need people like him to make this country and this world better place to live. (By Hungga C, Indonesia)
Comment:
1 He won in Jakarta election, proved that he has won people heart outside his city
2 he won 2nd election in surakarta with more than 90% vote
3 his approach is bottoms up to solve city problem rather than top down approach
4 free from corruption where sorrounded with corrupt official ( lower and upper level officials)
5 culture oriented in midst of globalization n capitalism influence
6 likeable personality with humble, down to earth, but very smart in problem solving
7 I dont even need to live in surakarta to be able to describe all this (By Chandra W S, Indonesia)
Comment:
I grew up in Solo, Indonesia where Joko Widodo was the major until recently. At the begining of his career, once he stopped by at my father's office which happened to be located 5 mins away from his party office and introduced him self as a major candidate. My father told to him that he never heard of him before but if he intend to be a good major we'll wish him best of luck. And humbly he answered that he'll do his best he can.
Time goes by and does tell, Jokowi did everything he could to make Solo a better place to live and work in many ways. My childhood friends from home are satisfied with his work as the major.
We, Indonesians, know nearly not a single soul who actualy human enough to understand being a government officer means SERVING the folks and not the other way around.
May Joko Widodo -as the new Jakarta governor- remain the same honest, humble and hard-working person as the people in Solo know him. Indonesia could use someone like him to be the president. (By Esther N, Outside Indonesia)
Comment:
Mr. Mayor Joko Widodo is close to the people, loved by its citizens, has a pro-people attitude, always low profile, spending a little time at the office but spends much of his time working directly down to the field to visit the residents ... a little talk, but a lot of work ..
never took a salary as mayor for himself but cashed in a small form and distribute it to the poor ...I am not his citizen, but after hearing his performance as mayor, I expect him to be mayor in my town ... but my expectations may not be granted because Mr. Joko Widodo has won the general election Jakarta Governor, I hope he'll be able to alter our capital better city. (By Miela C, Indonesia)
Comment:
He is the one which can keep the OLDEST JAVANESE POEM ABOUT LEADERSHIP.Adigung, adigang, lan adiguna. Which mean even if you are major or king, should not be arrogant. Ngluruk tanpo bolo, menang tanpo ngasorake. Attack an enemy by himself, when he win, never take an advantage from your enemy.It shows when he became a new governoor of jakarta a few days ago. Every body in indonesia loves his humility and his humble. ( i write this with tears because I've met him once for its hospitality. (By Iduk W, Indonesia)
Comment:
He serves his people, not his superior officer. He refused to follow the Governor of Central Java's order, which is to wipe out traditional market and replace them with European franchise modern market. He uses friendly approach to move hundreds of merchats to a new market location, while other city leaders will use reinforcement for the same issue. His people idolize him and the media love him. He make his fellow city leaders look like bad guys. I want him to be my next governor. The capital need him. He's the one. (By Fernandho S, Indonesia)
Comment:
Mr Widodo has just been elected as The Governor of Jakarta Special District, the capital city of Indonesia. Although the official reulsts has not been released till manual count next week, but all quick counts showed that he won by a solid 6-8% margin to his opponent, the incumbent.
He has a very genuine approach, with his chekered madras shirt, he attracts lots of people, young and old, male anfd female. and know his shirt becomes trends in Indonesia.
His campaign is very original, he launched a computer game, similar to the faous Angry birds, to promote his programs and concepts. this games has been played more than 1 million times and still counting.
He recruited tens of thousands volunteers in his campaign. They are very creative, especially the young people. They made videos, lots of kinds, to urge people to vote him. The culmination of their creativeness was these youngsters made a flash mob dance, with more than 2500 people perticipated in it. It was amazing, I think it was the first time a flash mob dance was used in a political campaign. I sincerely think he deserve to be The World Mayor 2012. (By Soegihartono, Indonesia)
Comment:
Joko Widodo is one of the best mayor in Indonesia, the cleanest politician as far as I've known. The result of his job can be seen in Solo (Surakarta). Solo has become the nicest place to live, less pollution, and the people are really friendly. I personally do not live in Solo, but I know Solo very well because my father's family live there for a long time and I pretty often go there for vacation. Last time I went there, the city was getting better and better. The number of vehicles are increasing greatly but the traffic is still comfortable to drive unlike the city where I live. I'm hoping there is others Joko Widodo who can be the leader of my place. So, because of what I've known about Joko Widodo, I proudly vote him to be the best mayor in the world. (By Weissy B, Indonesia)
Comment:
In indonesia very seldom to find official government without corruption. Joko Widodo one and only mayor in indonesia who concern fighting corruption, he did it to build Surakarta more comfort n clean. Im proud to him. (Irna C, Indonesia)
Comment:
Joko Widodo is an inspiration to a country as big as Indonesia, with its vast diversity as well as problems. While many officials in the country often succumb to the temptation of money and power, he proves to be a dedicated, honest and humble servant to the city of Surakarta. I dare to say that he is a trailblazer for honest and capable leader in the country of more than 240 million people. (By Hans Nicholas J, Indonesia)
Comment:
Joko Widodo, now he will be lead Jakarta as a governor. It's proved that people choose and vote him because Joko Widodo made the people love him as a leader. Almost all strata class of the society chosen Joko Widodo as their leader. Vox Populis Vox Dei. (By Michael H, Surakarta)
Comment:
Joko Widodo is the hope for fighting Indonesian corruption, because he fights for his people when no one else would. I lived in Jakarta and we have high hopes to our new Governor! (By Alissa, Indonesia)
Comment:
I think Joko Widodo, the Mayor of Surakarta, Indonesia, is the best choice as World Major 2012. His leadership, caring and his stand to the people makes him deserve to be the winner. Jokowi never build image like other politicians, but every activities that address to serve the people being the best image for him. Solo never be the same city like now without Joko Widodo. (By Andre N, Indonesia)
Comment:
Jokowi is a breath of fresh air in one of the most corrupted countries in the world. His humility, sincerity and dedication has won the heart of not only the Solo people, but also the majority of Indonesians living outside Solo. I recommend Jokowi to be selected as the best mayor in the world. (A N, Outside Indonesia)
Comment:
Probably this space will not long enough to accommodate my point of view about Pak Jokowi, a major of Surakarta, now a candidate of Jakarta's Governor. Pak Jokowi is the definition of a credible leader.He stands in front of his people by touching them through their hearts. A friend of mine from Solo told me that life even gets easier since Pak Jokowi became a Surakarta major. No more complicated procedure in gaining a legal document and Solo is more "friendly" now for its people. I once lived there, when I was in college. Now I'm living at Jakarta, the Indonesian capital city. I just want to pray to the almighty God that Pak Jokowi will successfully win the election of Jakarta's Governor this 2012! (By Dini, Indonesia)
Comment:
I am Indonesia born Chinese race who lived in Indonesia and I am currently working in Taiwan.
As a Chinese Indonesian I felt this mayor works good and have a good behavior. He knows how to makes his folks felt taken care and he also improves city transportation, traditional market and many others.
He is the best ever government official beside Basuki Cahaya Purnama who are now get in to Jakarta Election as Joko Widodo Vice Governor candidate. (By Joni, Outside Indonesia)
Comment:
Mr. Joko Widodo, so far, is the best Indonesian mayor I have ever known. He have brought many positive changes and improvements to Solo city since he took the office 7 years ago. He used humanitarian approach to relocate street vendors; created free health care and education program for the poors; fight off corruption among city officials; introduced efficient yet friendly public services; improved public transportation; brought back the lost local cultures and values into citizen life; etc. His fame, due to his success in improving Solo city, is known through out the nation. In my opinion, he is not merely deserve for tittle of the best mayor but also deserve a seat as the next Indonesian president! (By Adi C, Outside Indonesia)
Comment:
I'm 17 and not yet legal to vote for him in Indonesia, but i've been reading the newspaper and i think he is a great person to be a role model for my country. i hope by voting him for the wold mayor can support him in winning the award, and help to inspire more indonesian to follow his path. (By Jessica, Indonesia)
Comment:
I don't usually care who's the official in my country, let alone the Mayor, even my hometown Surakarta. But I did notice every time I went home during the period, then something really change in Surakarta/ Solo. I become to follow this Mr Jokowi. Oh my. Really one of a kind. He is just the only one who makes hope, that even in Indonesia, there is still a good official. Surakarta was very lucky to ever had him for more than 5 years now, more than 1 term. Definitely deserve best major title! (By Bayu, Outside Indonesia)
Comment:
Joko Widodo is one of the best mayor in Indonesia, the cleanest politician as far as I've known. The result of his job can be seen in Solo (Surakarta). Solo has become the nicest place to live, less pollution, and the people are really friendly. I personally do not live in Solo, but I know Solo very well because my father's family live there for a long time and I pretty often go there for vacation. Last time I went there, the city was getting better and better. The number of vehicles are increasing greatly but the traffic is still comfortable to drive unlike the city where I live. I'm hoping there is others Joko Widodo who can be the leader of my place. So, because of what I've known about Joko Widodo, I proudly vote him to be the best mayor in the world. (By Norman S, Indonesia)
Comment:
1. He stands for lower economic level society, and
2. using an out-of-the-box approach (he treats the traders to a dinner 54 times during negotiation, instead of using a violent approach) when moving the traditional scrap market place "Taman Banjarsari", resulting in a peaceful moving of the scrap traders.
3. refuse his superior (Governor, named Bibit Waluyo, Ret.Gen.) idea to replace traditional market (identic with lower economic society) with modern market (identic with supermarket for higher economic living) (By Cokro, Indonesia)
Comment:
As a government employee I know Joko Widodo as a very concerned public interest. He has versatility in the management of the bureaucracy, and he knows how to use it for the benefit of society. Joko Widodo has a good ability to establish communication with stakeholders without losing sight communication with the people. (By Shape S, Surakarta)
Comment:
Joko Widodo is the only leader who can make me amazed. the only leader that when I remember him, I feel excited and have new hope. (By Harjo, Indonesia)
Comment:
I was born in Surakarta in 1961 and lived there until 1981. I went home last July and wondered that my city has become beautiful, neat and friendly one. I just thinking to spend my retired to back home. I honor Mr. Joko widodo who has been a good mayor for this decade and Surakarta's people love him so dearly. (By Arum R, Indonesia)
Comment:
Indonesia should be proud after Joko Widodo has been chosen as one of the 25 World mayor candidates in 2012. Jokowi is one of the best leader in indonesia. He always listen to the people and he know what must to do for his people and his country. In the second election for Surakarta mayor, he was elected by more than 90% people. And it was a record in indonesian history. (By Yuma, Indonesia)
Comment:
Mr. Joko Widodo, mayor of Surakarta, is a great administrator, smart manager and great leader. He has successfully transformed the City of Surakarta into a better city to live, provides his people with rights of good public services, infrastructures and other facilities needed by the people of the City of Surakarta. (By Zul H, Indonesia)
Comment:
When I first heard about him, I was surprised that so many people like and praise him. I tried to find out more about him and what he has done. He has fooled us with his simple and humble appearance. His vision and work are enormously great. He inspired many of us to do more for the people. He deserves to win the title of the World's Best Mayor. (By Krisdita, Indonesia)
Comment:
I had stayed in Indonesia for half of my life, understand their cultures and their governors, cities mayors, and all their government officials. they run their offices as if their own bottomless piggy-banks. they only concern with their own pockets.
Mr Widodo is 1 of the two officials who think about people he serves, health and education system for people, how to improve people living standard minus corruption mentality . The real true democratic practitioner. Chosen by people, works for people. He spends 1 hour behind desk, and other working hour, work among people around the city he ran - Solo ( Surakarta ) - and bring It to 21st century city without losing Its' culture and charms with just mere 7 years.
Mr Joko Widodo and Mr Basuki Tjahaja (known as JOKOWI group) Candidate for Jakarta mayor and Vice. They are two "true city-servants". I hope they can turn Indonesian no 1 city as successful as Surakarta, turned Indonesian capital to become city that deserve to be a capital city, make Jakarta people proud again. Free of corruption, change 19th century Health,education system to 21st ones, affordable to all city people or provided to poor people. Like Surakarta. (By Santo, Outside Indonesia)
Comment:
He is a honest and credible leader. Where all the government leaders from high-level to low-level are extremely hypocritical but Mr. Joko Widodo is still a leader who has a heart and is acceptable by all groups regardless of religion and race. (By Daniel, Indonesia)
Comment:
Mr Joko Widodo also well known as Jokowi is the marvelous one. He has proven to be a leader of great notable qualities, being elected twice as the mayor of Surakarta. On his first term he was 'just' voted by 34% of total voters to win the local election. But 5 year later he successfully made 91% on the election of his second term. An obvious simple proof of his excellent performance in his first term as mayor. He is a humble, honest, visionary, clean and decisive person to serve the whole Surakarta's people especially the needy communities with love, care and integrity. He made a big changes across the city,donates all his salary as mayor to the needy, encourage the youths to having self pride by sponsoring and promoting their local-made car as the embryo of national made car, and change Surakarta as the important anchor city in Indonesia. He inspires everybody in Indonesia, especially the Government leaders, on how to fight against corruption in a simple manner by implementing his simple yet effective system and implement the law inforcement strictly. Now he is on the way of changing the national political game, from the oligopolistic and manipulatic political cartel on a collective-power-based model by giving examples of how to sincere loving and caring people in an honest way instead of the merely political show-off . His action almost always shocking the established group by doing his examples of what the so called political leaders should do in politics. For example, in running for the Jakarta Governor election he was doing the campaign by visiting as many people as possible, listening to what they demand individually, explaining his program in a simple terminology continously. He and his supporters also using (smart) phone, internet communication and social network effectively. That's it. He did not doing what the competitors did, put the massive number of banners and stickers in every city's corner, news paper ads, excessive television ads, carnivals and parades or massive gatherings. Jokowi simply said that he is not interested to make the city dirtier or make the voters got headache. But it was shocking that the media appreciate to his campaign idea and keep publishing his activities enthusiastically. Suddenly, Jokowi become media's darling. The result is he moved from new comer position to be the winner of the people's hearts, winning the election's first round by 43% out of the 5 other competing mates, far above the existing Jakarta Governor. Now the Jakarta people in a big hope of not missing the momentum of having Mr Jokowi as the Jakarta mayor to solve the complicated existing capital city problem in the second round. Jokowi has been successfully switch from the media's darling to be the people's darling. And undoubtedly, he actually deserve to the presidential chair of this Republic in the future. The time will come. (By Bambang H, Indonesia)
Comment:
Very rare person to find in Indonesia as one of the most corrupt country in the world. He is a humble, clean, honest and have Integrity to his duty. He lead with his heart and very cloe to his people. (By Styawan, Indonesia)
Comment:
Best mayor in Indonesia as far as I Know. Very down to earth personality. Clear result of city development. Anti corruption, and do much about it. Breakthrough solutions for the city of Solo. Hopefully will be mayor of Jakarta (capital of Indonesia) in the next future. (By Ary T P, Indonesia)
Comment:
He is good people,religious, integrated, humble and can be a model for other people. (By Shinta, Indonesia)
Comment:
Omg, he is very humble. There is no such a leader especially in Indonesia who would spend his time talking with people who live in poverty, discussing a way to make Solo a better place and taking public vehicle to go everywhere. He is a hero. Thank you, Sir! (By Ricardo P, Indonesia)
Comment:
Jokowi has been changed a Solo City totaly. He maintain a traditional culture than a mall. in his opinion, he thought if many mall built in Solo, the traditional market will be lost(on consumers), and the benefit only for investor. So, He revitalized many traditional market to be as comfortable as mall. So, living in the city of Solo can be balanced between the upper class, middle, and bottom. (By Joshua H, Outside Indonesia)
Comment:
Jokowi adalah figur seorang pemimpin yang sangat dibutuhkan oleh rakyat. Pembawaannya sedehana dan apa adanya dapat menjadi teladan bagi masyarakatnya. Beliau membereskan masalah tanpa ada kekerasan dan konflik, sangat berwibawa dimata Rakyat Solo. Meskipun saya hanya beberapa tahun di kota beliau, tapi kenangan akan kota yang bersih, aman, teratur, sangat membekas di hati. Pemimpin yang dimimpikan oleh Rakyat Indonesia. Sukses selalu buat Bapak Jokowi, GBU. (By Tekad, Indonesia)
Comment:
I know his commitmen to developed Surakarta as like as his country. he has integrity, honest, low profile. I hope he will be winner, not only as achievment, but also for our people in my beloved country "Indonesia". (By Even A, Indonesia)
Comment:
Joko Widodo was a knight of the soul of a true leader ..
in 7 years can change the city of Surakarta, a city that is great to have the slogan "SPIRIT OF JAVA", orderly and corruption-free bureaucracy. it is evidenced by several awards which he received. this time he was nominated by one party to run for governor of the state capital of Indonesia JAKARTA. joko widodo salute for his achievements and performance that the interests of the people especially the poor .. BRAVO (By Petrus K N, Indonesia)
Comment:
THE BEST MAYOR IN INDONESIA! Praise to God we still have this kind of person as our leader, humble, integrity, assertive and the most important of all NO CORRUPTION!!! (Indonesia is full of corruption but He is different). May God bless him. (By Ester S, Outside Indonesia)
Comment:
Joko Widodo is a mayor who leads based on the voice of the citizens. Once a week, he look around the city by bike along with all heads of city departments to have dialogue with people on what the people's needs. Joko Widodo originally is not a politician, he is an entrepreneur/businessman, that is why he works effectively and efficiently tackling problems and turn it into development. (By Pradytia P, Surakarta)
Comment:
As a leader he has proven to bring breeze of change to Surakarta.. And with his landslide victory (91% of total votes) in last election, we can see that he is much loved by people.. Simple,Humble,Highly Devotion on Serving People. I can't found any reason to not vote for him. (By William K, Indonesia)
Comment:
Dia telah membuat sebuah perubahan besar dalam memimpin, mengatur, serta menata sebuah kota menjadi lebih baik. Dengan melakukan pendekatan yang baik kepada masyarakat, Mr Joko Widodo mendapat tempat tersendiri di hati para masyarakat. (By Al M, Outside Indonesia)
Comment:
He is the real mayor in Solo, he has a good awarenes, humanist, and he prove his campaign was not only in the mouth. He is the proud of solo citizen.(Sorry, my english is bad) (By Asep T, Indonesia)
Comment:
Joko Widodo is the best mayor I've ever known in Indonesia and Asia. He is humble, honest, hate corruption, have good vision-mission on his job, and love His people which He proves it in their city not just promises but prove it. (By Adi, Indonesia)
Comment:
Definitely the best mayor in the whole universe. a truly visionary leader. for him leading is not about gaining power, it's about serving and giving the best to the society....and in the country like Indonesia, this kind of mayor is a scarcity. i want him to get more highlight, so he can be the role model for others. (By Rizky, Surakarta)
Comment:
Right now Mr. Joko Widodo become a candidate of DKI Jakarta (I live in Jakarta). He has a very high reputation of his credibility. I really wish he become my City Mayor. Love you Mr.. Jokowi! all the best for you! :) (By Hosea H B, Indonesia)
Comment:
walikota yang dapat menyelesaikan pedagang kakilima tanpa ada masalah dan membawa kota Solo meloncat lebih maju di dibanding kota kota di Indonesia dan kota lebih beradap. (By Marhaeni D, Indonesia)
Comment:
Joko Widodo with a popular name of "Jokowi" is the only mayor in Indonesia who could build a great positive change by applied the new system in Solo. He could comunicate gently with people at every society, so he can avoid chaos and reduce demonstration to zero in Solo, Surakarta. He has no hesitation to fire his people on charge in government when they dont intention to make a better city. (By Elora C, Indonesia)
Comment:
In a very corrupted country like Indonesia, it is very-very hard to stay out of it because all his decision is against the majority.
Even though he is the major, he is very humble and love to mingle with his people specially the poor, weak and needed help.
He is very creative and innovative.
He is a non discriminative Major which is very hard to find in Indonesia because the majority of the population are moslem.
He is a nationalist which is very hard to find in Indonesia nowadays.
He is a very caring person and does not look down at the poor, a very noble character. (By Ignatius J H, Indonesia)
Comment:
A man who thinks out of the box. Solo or Surakarta was in crisis of self identity, like many other cities, until Jokowi came and introduced one thing that changed Surakarta: vision! Many cities base their development on the numbers of malls, skyscrapers, highrises, projects and physical projects. Instead of these, Jokowi prioritize on building the people's characterstic. As a heritage city with a highly civilized culture, Surakarta is lead by him with heart, not with power. This, in the realm of modernization is significantly rare. The citizens of Surakarta were lack of pride of their own city. Jokowi came and reminded the citizens all the potentials that the city and its people have and try to develop the city with them. it might not be an easy task. However he tries the best to do it. (By Darma, Surakarta)
Comment:
Jokowi adalah pemimpin yang bersedia berdialog langsung dengan rakyatnya. Dialog itu ia lakukan demi mendengar aspirasi yang original dari rakyatnya.Wikipedia menulis bahwa selama menjabat walikota Solo, Jokowi melakukan komunikasi langsung rutin dan terbuka (disiarkan oleh televisi lokal) dengan masyarakat. (By Hendra, Surakarta)
Comment:
Major Joko Widodo has a superb social intervention approach to low class and uneducated society. In Indonesia and especially in Solo, we have huge problem of low class society. They open their stores on the pedestrian way, they built houses near the rivers way. As an Indonesian, I have seen that most Indonesian government use extreme force to enforced the rule by destroying their houses and street stores. Its very inhumane. Those people are poor people and government should help them. By using extreme force, they became social threat and it didn't solve the long term problem of the society. Major Joko Widodo has done his best to educate them, meet and treat them with dinner for over 56 times to talk and understand their needs. It needs patience and courage and time to change and Major Joko Widodo has proved it. (By Effendy, Outside Indonesia)
Comment:
He is a modest,having integrity,responsible,humble, friendly, care to environment,respect to people and many good characters such as servant leadership, etc. (By Rufins, Outside Indonesia)
Comment:
Horas..! Bapak Joko Widodo... aku senang dengan penampilanmu yang dekat dengan masyarakat kecil, menengah, dan besar. Selamat menjadi orang yang paling bersih. (By Hardi S, Outside Indonesia)
Comment:
Joko Widodo adalah profil pemimpin yang merakyat, setia mendengarkan aspirasi rakyat dan memenuhinya. Tegas terhadap bawahan dengan orientasi pelayanan masyarakat. Termasuk satu dari sedikit pemimpin di Indonesia yang benar-benar anti korupsi dan berorientasi mensejahterakan warganya. (By Aris, Indonesia)
Comment:
He has done tremendous changes in the city he runs. Solo now has become a very nice place to live. The bureaucracy procedure is not complicated anymore, city walk/city parks dominate the main street, more cultural events that live up the city and keep the traditional culture exists. And the most of it is that the people love and respect him. (By Noni W, Outside Indonesia)
Comment:
Jokowi is the best mayor in Indonesia, He is a down to earth mayor and very closed to all the citizens of Surakarta. Paying much attention to poor people and their education and health, make Jokowi becomes more famous. And never take and use his salary for his own purpose but to give to other poor people who need it makes him become a unique major. (By Rimmeld S, Indonesia)
Comment:
If all the leaders around the city in the world, can act and fight for the rights of its people like Mr. Jokowi, I suppose all the problems of poverty, squalor, health, and public education can be handled properly. If leaders can educate and became role models to its people, the world would be a very comfortable place to live for all levels of society.
We very proud of him. (By Veronika B, Indonesia)
Comment:
Many parties agree that the impact will influence most areas of Indonesia. As a public figure he is more inclined to choose a simple and populist ideological attitude as a capital. His humble and simplicity appearance attract public symphaty. Apart from politics, but the figure Jokowidodo quite phenomenal, inscribed Various achievements while serving as a leader in this area proves that he has the clean mental mindset of bureaucracy.
His phylosophy was: "Being a leader someone should provide security, direction, rather than seeking profit for themselves. "An educated mind should be honest especially in action '
In my opinion, the leaders should be chosen based upon the ability of candidates, not what religion of candidates. Therefore, religion is a private matter between a servant of the Lord. Whether or not candidates are diligent prayer, fasting Ramadhan or not diligent, and always pay zakat or not, this is not the affairs of the people to know.
To consider when choosing a leader is how far the leader's ability to deliver the maximum benefit of the people. Therefore, one should be selected so that the fair was the leader of his leadership to bring the benefit for the people they lead. So even though the election for governor in the Republic of Indonesia's capital Jakarta, has always dogged by the issue of religious differences, people are getting smarter and will put the best candidate in the work. Joko Widodo has joined the Capital City Jakarta governor election and has won the first run and will go for the second round on September 2012, We expect he will become the next governor and based on his performace and track record we hope he will be awarded as the best World Mayor 2012..! (By Ranny N J, Outside Indonesia)
Comment:
It's hard to find the bureaucrat who works with truth in Indonesia, but Joko Widodo shows he is. I don't live in Solo but when I read the programs that have been done by him in Solo made me so interested to him. He doesn't want to take his salary for being the mayor, and he uses the salary for the Solo people. He works only one hour in office and goes to anywhere only to listen people's problems directly so he can solve the problems from the roots, and many things he's done that make him is different with the other mayors in Indonesia. Now he is competing for being the governor of Jakarta. I believe, he is able to manage Jakarta as well as Solo if he is chosen. May the luck be with you Jokowi! We always support you. (By S L, Indonesia)
Comment:
Saya sangat kagum dengan sosok Jokowi, penampilan yang sederhana dengan wajah merakyat, saya bangga dengan gaya kepemimpinan beliau, santai dan serius, tanpa ada jarak dengan rakyatnya, dan selalu mengutamakan suara rakyatnya, shg beliau sukses dan disenangi oleh rakyat, saya puji kejujuran beliau sebagai pemimpin, ya Jokowi merupakan pemimpin yang tegas, berwibawa dan sangat jujur, selalu memimpin dengan hati, saya berdoa agar beliau menang dalam pilkada Cagub DKI Jakarta karna hanya beliaulah yang cocok jd pemimpin no 1 di DKI Jakarta, sukses Pak Jokowi. (By Ester E S, Indonesia)
Comment:
Joko Widodo achieved many awards during his governmental such as best mayor in Indonesia 2011 from Home Affairs of Ministry. Under his rule, Solo has been glowing in the brand as "the Spirit of Java". Joko Widodo has many projects for development the Solo City (or Surakarta). (By SNM, Surukarta)
Comment:
Apparently God still affection to nation and the country of Indonesia, has given a son named Joko Widodo. He is very simple and populist ... do not know what the name of corruption in his life. He knew only devoted to his Lord and give prosperity to the country. He is a hard worker and very intelligent, and assertive in doing his job as a leader. God guided him onwards to us all the Indonesian people. And made him the leader of the nation to the next. (By Eddymarsel, Indonesia)
Comment:
Mr. Widodo is a working major who have improved drastically the welfare of the people. Among his accomplishments are the health program and the education program for Soloneses. He also has increased the city income by properly managed the street markets.
After all, he has transformed Solo into an interesting destiny of travel with its rich culture and heritage. (By Vera T, Indonesia)
Comment:
Mr. Joko Widodo is excellent Mayor of Solo Surakarta in Indonesia. He is closed to all the people, good communication, manages the City creatively, and open many opportunities for better peaceful life and better economy of the people. (By August H, Indonesia)
Comment:
Joko Widodo is a good and visionary leader. He really has a soul to serve the public, especially those who are poor and marginalized. He never discriminate religion, race, and ethnicity in serving the community. (By Ary S, Outside Indonesia)
Comment:
Proud of him...
Jokowi is the best Mayor in entire Indonesian cities. He fights against corruption, he cares about local culture, he provides good service to society especially disadvantage society, and he loves metal music!!! Yeaah... totally he's so legit!!! (By Kiky, Surakarta)
Comment:
Mr. Joko Widodo is the best Mayor. No Mayor the same like him in my country. He was do the excellent as long as he lead Surakarta city. I hope, he will be a winner in between of candidates the other for this year. Because he worthy to get it. (By Lisen L, Indonesia)
Comment:
He has done what so many other mayors in Indonesia won't do. He succeeded in approaching street vendors so that Solo can be a better place to live in. I have been to Solo in so many times and I feel that Solo is becoming a far better place to live and convinced me to stay in Solo after retiring from the office. (By Dimas, Indonesia)
Comment:
He has restructured the town of Solo into touristic town that support the economy of the people. He was able to approach the local fresh market merchants in moving from the local streets into a modern market without violence forces and they were free of monthly rental charges, by doing so streets in Solo are now cleaner and organized. He also manage to protect the livelihood of small family business from the big retail mega stores. He is moving Solo into the future while preserving their livelihood and tradition. Mr Jokowi is also an acting Mayor that doesn't receive any salary from the city that he runs (he receive salary from his own company). He has eliminated many corrupt officials from the goverment office. Mr Jokowi is the people's Mayor. (By Ida D L, Indonesia)
Comment:
He was one of the best in indonesia. His devotion to the society of Surakarta is very great. Surakarta society has really feel his programmes benefit such as cheap medications, cheap education and even free for poor peoples category. He dismantled the street vendors in ways that which is wise and humane. Without violence or dissolution forcibly by the police. He gave a solution by providing a place to sell anything that was appropriate for street vendors. (By F G W, Indonesia)
Comment:
Joko Widodo is not only a gift to Surakarta and its people. He has pushed the boundaries and set a new standard to other politicians who aspires to become mayor in one of around 500 districts in Indonesia. Joko Widodo has become a symbol for the nation's road to a modern democracy. (By Cay I, Indonesia)
Comment:
Is rare to find a mayor who is not corrupt in Indonesia. Finally, we have him now. He is a guy of action. He uses peoples money into the right place. He is a simple and humble guy with lots of attention to less fortunate peoples. (By Y R K, Surakarta)
Comment:
Mr. Joko Widodo is anti racism...He prove it by become the nominee for governor of DKI Jakarta with his vice governor is an Indonesian Chinese...(By Johnny Boy, Indonesia)
Comment:
"My objective is to create a modern city that maintains its heritage. It is important to strengthen traditional businesses and markets. But, at the same time, Solo is changing. It needs to accomodate new investments and urban development." (Joko Widodo) (By Ega N S, Indonesia)
Comment:
Unlike his predecessors and mayors of other cities, he cared for the poor and the needy. For many years, Surakarta is just a small town, but now it's becoming one of the highlights in Indonesia. He is a definitely a servant leader who cares about what the citizens want instead of what he wants. Thank you Jokowi for making Indonesia proud! (By Iamfran, Indonesia)
Comment:
Jokowi has proved his success as the Mayor of Surakarta in Central Java Indonesia. An egalitarian, hard working, down to earth care for the poor in promoting free education and health care and say NO to corruption is seen as a hope for a change in Indonesian archipelago currently rampant with corruption! (By Ries W, Indonesia)
Comment:
I chose Mr. Joko Widodo because of he has turned Surakarta 180 degree. In 1998, riots had shaken Surakarta, known as Solo, as mobs razed several neighborhoods, destroying homes and businesses. Poorly functioning government services, high unemployment and weak economic growth weighed on the half million residents. With the help of Vice Mayor F.X. Hadi Rudyatmo, the mayor took a series of steps to
turn Solo around. Known by his nickname Jokowi, he built alliances with businesses, religious leaders and non-governmental organizations representing the poor. Initially he relocated thousands of street vendors to relieve traffic congestion and created a one-stop shop for business licenses and other services. He also expanded facilities at new vendor locations, improved conditions in slums and upgraded health services. Jokowi then worked to boost tourism and strengthen the economy by reviving Solo's image as a regional center for arts and culture, both to its own citizens and the outside world. While economic growth bolstered the city's revenue base, Jokowi reorganized parts of the government to promote efficiency and opened the budget process to greater public
scrutiny. In 2010, he and Rudyatmo were re-elected with 90.9% of the vote. (By D M, Indonesia)
Comment:
Jokowi has showed his success in handling low income people of the city, those who are usually forgotten by most mayors. He showed his concern for those people by never took his salary as mayor and provide it for these people. He is more often at field visiting people & places in the city to know what the problem is, and not just hear or read report from his staffs so he know excactly the problem, directly find ways to solve the problem and execute it. (By Johannes T, Indonesia)
Comment:
Mr.Joko Widodo, Mayor of Surakarta Indonesia is very talented person & strong in managerial with very good leadership to those poor people and excellent programs to raise the poor people without destroying their investment. He is a very honest leader & always wants to help poor people in his city with his very brilliant way without any corruption which is what commonly done by sombody else in the country. (By Sunarnyoto S, Indonesia)
Comment:
Im Joe from Surakarta (original, born and grow in here ) I'll add a little informations about my lovely Mayor Mr Joko Widodo.I'm very interested to tell about him. He really cares about education. He's gave many chances for the poor students to " enjoy " the education world " easyly and even free so that the can study more than yunior high school level. He's also gave the spirit for the students to make local cars and motorcycles. Amazing ! Sometimes he's in his office only an hour everyday, he always go arround to communities to hear every their complaints, opinions so he can hear what his people want directly (By Joe, Surukarta)
Comment:
Joko Widodo or Jokowi refused to give permit to demolish historic ice cream factory in exchange of a shopping mall. Other mayors would do the opposite and accept bribe. While he has never committed in any corruption case - and live a simple life. As it is very difficult to look for clean administration and parliament in Indonesia, this guy emerged as an admirable figure who dares to make a difference. (By Martha, Indonesia)
Comment:
Bapak Jokowi sangat dekat dengan rakyat kecil, masyarakat umum, dan bisa mengerti kebutuhan masyarakat. Sekarang dia mencalonkan diri sebagai gubernur Jakarta. Dalam foto-foto Bapak Jokowi bersama mayarakat umum yang beredar, saya sangat terkesan dengan senyum dan ekspresi wajahnya yang polos dan sangat tulus. Beliau layak mendapatkan yang terbaik.
Sorry, my english not fluently, i hope you can translate that. (By Jokondho, Surakarta)
Comment:
Yes, Indonesia needs him. Corruption is a common thing in Indonesia, especially government officers. But not for this man. He is clean from corruption. He also successfully transform Surakarta to a modern city, while preserving cultural values. Surakarta now has become a much better city compared to it used to be. In conclusion : Jokowi is the man of action, and the best mayor in our country at this present time. (By Indra, Indonesia)
Comment:
He is very Humble person. He can manage the goverment of Surakarta to be better place from before. I've heard that He often visited some people to tell them about problems in Solo, and He made a 42 meeting with street peddlers to believe Him about His program of Surakarta city.So i proud of Him to be nomination of world mayor. (By Heze, Indonesia)
Comment:
Joko Widodo never took his salary as mayor for more than five years. He makes a living from his own business. He never corrupted. He cares for poor people so much and made many improvements for them. He is not arrogant too,also not awkward to socialize with his people directly on the street. He is the best mayor in Indonesia on 2011. (By Lita, Indonesia)
Comment:
I am a resident from the outside of Solo. But I have never seen a mayor who was so loved and honored in his hometown. By this time he will campaign for governor to Jakarta. Greatest hope is that someone like him would rule the city into a better city as he had done in Solo. I am very proud to recommend him to be one of the world's best mayor. (By Benny C, Indonesia)
Comment:
I am following almost all news about Jokowi (that's how we call him shortly) and very proud of him. When I first saw him in television, I was shocked and said to myself, how could this person convince residents in Solo to elect him to become mayor. But I visited Solo in 2010, I was convinced by his success to transform Solo from riot city in 1998 in to modern but convenient city, a city which is very welcoming, convenient, clean and neat. So I want to express my appreciation by voting him to become World Best Mayor. (By Hendrata, Indonesia)
Comment:
Mr. Jokowi has a very rare quality in my country, he is a shinning star in the middle of corrupted country. He defends the poor, set up system for them to get proper education and health, unlike other leaders who only think about themselves (corrupt for own wealth). (By Ellen T, Indonesia)
Comment:
He's one of honest mayors in my country (Indonesia). he did a lot of excellent job for Surakarta, from stabilizing traffic, helping the poor and having an initiative to come to the zone where he had to see the real condition and problem. He is a simple living man too, he doesn't make a border between civilian's class (poor & rich) (By Mochamad B A, Indonesia)
Comment:
Joko Widodo is real hero to small people in solo.he is simple mayor and very chummy with people.Joko widodo has changed solo city from no good become very good..many big changer on solo city.peole on solo very love and very like Joko widodo.He has winner 91% on mayor election without capaign..Joko widodo removed dirty countrified withouth strongth force..And Joko Widodo is realy realy hero on solo city. (ByTeguh, Indonesia)
Comment:
Inspirational leader, he received Anti-Corruption Award as well. Hear the people, work closely with the people, the leader should serve the public that what he did. Salute! (By Patricia S, Indonesia)
Comment:
Jokowi has been known for his many good reputation. Even though he (not like others) never display his photo in any of Surakarta publications, all of Surakartans and even Indonesians known him for his reputation, therefore people often know Jokowi without able to identify him in person. It's this kind of reputation which show us that he really works his way in to people's hart, confirming his other reputation: a working class mayor. Standing among Indonesian corrupt bureaucrats, Joko Widodo gives Indonesians a glimmer hope that honest leader does exist after all. (By Armawan S, Indonesia)
Comment:
Joko Widodo was chosen by the Tempo magazine as one of the "Top 10 Indonesian Mayors of 2008" Solo Mayor Joko Widodo awarded the Bung Hatta Anti-Corruption Award (BHACA). The award was given to the characters that play a role in fighting corruption. The man who is familiarly called the gain Bung Hatta Jokowi Year Award 2010 (By ARI, Indonesia)
Comment:
Whoever got the power for such a long time tends to corrupt, but not for this man. While every strategic position holder racing to gain profit as much as possible, he didn't even take his own salary as a mayor, nor new car (gear) like new mayor usually did. Furthermore, he spend his own money to make difference, promote home made technology and used cultural approach to mitigate and respond to almost problem in his city. No wonder, people are begin to gain trust and hope in him to manage the most problematic and complicated big city in Asia i,e,: JAKARTA CITY, Capital of Indonesia. (By H P, Indonesia)
http://www.worldmayor.com/contest_2012/word-mayor-nominations-2012.html
http://www.worldmayor.com/contest_2012/comments-surakarta.html